Tech conferences are major gatherings for staying abreast of the fast-paced world of modern technology. These events bring together industry experts, professionals, and enthusiasts from around the world to share insights, innovations, and forward-looking perspectives.
In this article, we provide an extensive guide to key tech conferences in 2024 across various fields, including AI and machine learning, functional programming, fintech, and more. We have covered events scheduled from January to June 2024, since the dates and programming for the second half of the year are yet to be announced. We promise to follow them and will update you later with another list of must-attend gatherings.
For your convenience, we have divided this guide into three sections:
Best tech conferences for networking.
Area-specific conferences.
Functional programming conferences.
In each of them, conferences are listed in chronological order.
We also included two bonus sections:
How to get the most out of tech conferences.
How to become a speaker.
Best tech conferences for networking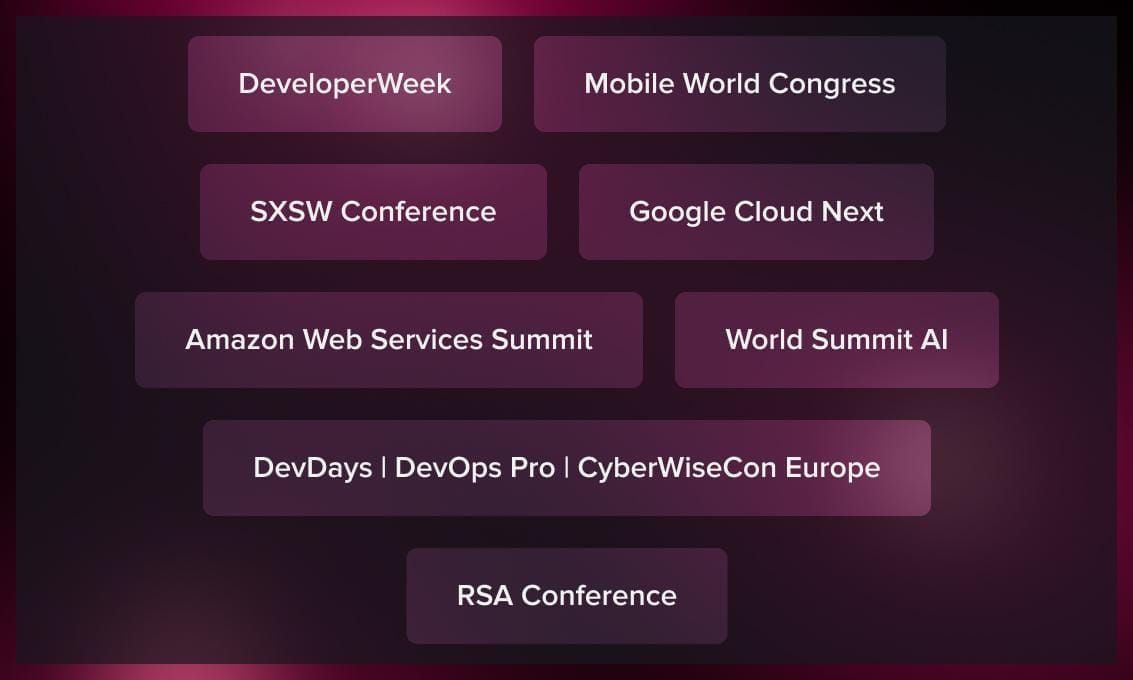 In this section, you will find general-purpose industry events, which, thanks to their scope, offer the greatest opportunities for making connections, growing your expertise, or achieving a technological breakthrough.
DeveloperWeek
21–23 February, 2024
San Francisco, US
Feb 27–29, 2024, Virtual Event
| | | | | |
| --- | --- | --- | --- | --- |
| software & app development | DevOps | AI | UX/UI design | languages & frameworks |
DeveloperWeek is a major annual gathering that attracts over 8,000 participants from more than 70 countries. Historically, the conference has seen speakers from tech giants such as Google, Facebook, Microsoft, and many more. Participants range from developers, engineers, and software architects to managers and executives, sharing the latest advancements in information technology, programming languages, platforms, and tools. The event includes the DeveloperWeek 2024 Conference & Expo, a hackathon with over 1,000 attendees, an 800+ attendee tech hiring expo, and a series of workshops, technical talks, and keynotes.
This year, DeveloperWeek has expanded its scope, introducing an enriched DevExec World segment that spans two days. This section is specifically tailored for engineering managers, tech executives, and lead developers, featuring roundtable discussions, educational workshops, and opportunities for networking.
Until December 8th, 2023, you can submit your application for any of the 31 categories of the 12th annual DEVIES Awards, which are scheduled to take place on February 21st, 2024
Mobile World Congress
26–29 February, 2024
Barcelona, Spain
| | | |
| --- | --- | --- |
| telecom | generative AI | mobile app development |
Mobile World Congress (MWC) is a leading tech conference in the mobile sector. It is held by the GSMA, a global organization dedicated to unifying the mobile ecosystem and promoting innovation for business and society. This year's theme is "Smart Connectivity," which encompasses areas such as fintech, 5G, Reality+, and innovative ecosystems. If you are interested in learning about the current and future state of the mobile tech world, it's a place to be.
The 2023 MWC Barcelona attracted more than 88,000 attendees from 202 countries, along with over 2,400 exhibitors, as reported by the GSMA. With trending topics, such as development of 5G, AI for smart factories and warehouses, as well as data-led solutions and private wireless networks, the 2024 MWC is likely to draw even more developers and potential investors.
SXSW Conference
March 8–15, 2024
Austin, US
| | | | | | |
| --- | --- | --- | --- | --- | --- |
| technology & innovation | IoT | generative AI | XR | music & culture | game development |
The SXSW Conference is a global assembly of various digital creatives to explore pioneering ideas. It features an eclectic mix of tracks, including: 2050, Creator Economy, Culture, Design, Energy, Fashion & Beauty, Film & TV Industry, Food, Game Industry, Government & Civic Engagement, Health & MedTech, and much more.
The main attraction of the conference is the Keynotes, hour-long presentations by some of the world's leading thinkers, such as former US president Barack Obama and AMD Chair and CEO Lisa Su, addressing the pressing issues of the present and future. The Tech Industry programming, central to the conference, will showcase the platforms, software, hardware, and digital systems shaping the technological landscape of today and tomorrow. The 2024 event will cover areas such as cybersecurity, Web3, the direction of Big Tech, and Austin's role in the tech landscape.
This conference is a great opportunity to gain cutting-edge knowledge while also having fun. The agenda for 2024 is still being finalized, so keep an eye on the updates on their website.
Google Cloud Next
April 9–11, 2024
Las Vegas, US
| | | | |
| --- | --- | --- | --- |
| AI & ML | Google cloud innovations | cloud data security | Google cloud databases |
The Google Cloud Next conference is a great opportunity to learn about the latest trends in generative AI, Google Cloud development, and collaborative technologies. You will have a chance to chat with Google Cloud experts and network with industry frontrunners. True to its tradition, the conference will also unveil new Google Cloud product offerings. If you are eager to maintain a cutting edge in technology and innovation, this event is a must-add to your schedule.
The agenda for the upcoming conference has not been announced yet. In the meantime, to get a sense of what to expect, you can watch the compilation of the 2023 Google Cloud Next conference:
World Summit AI
24–25 April, 2024
Montréal, Canada
| | | | | | |
| --- | --- | --- | --- | --- | --- |
| AI & ML | IoT | Responsible AI | AI applications | Regulatory compliance for AI | Women in AI |
In 2024, the World Summit AI Americas, a leading AI conference, returns to Montréal, gathering AI experts from tech, enterprise, startups, academia, law, government, and more. Attendees will include high-ranking corporate officials from Google, Microsoft, PayPal, Accenture, Siemens, Dell, Vodafone, and many others. In 2023, the summit collaborated with the Québec Artificial Intelligence Institute, the world's largest deep learning research organization. It also partnered with the Surgical Artificial Intelligence and Innovation Laboratory (SAIIL) from Massachusetts General Hospital.
Traditionally, this conference includes panel discussions, deep tech talks, workshops and use cases for AI implementation. Check out the program here.
Amazon Web Services Summit
June 26–27, 2024
Washington, DC, US
| | | | |
| --- | --- | --- | --- |
| digital transformation | database storage and security | AWS architecture | AWS cloud solutions |
The AWS Summit, to be held at the Walter E. Washington Convention Center in Washington, DC, is a free event with over 220 sessions to choose from. Besides being complimentary, the summit allows you to personalize your schedule. You can pick from lecture-style talks, whiteboard case studies, and group discussions.
You'll have the opportunity to speak with AWS experts, undertake AWS Training & Certification to sharpen your cloud expertise, and even compete in the AWS DeepRacer League, designed for machine learning enthusiasts. Max R. Peterson II, the VP of AWS Worldwide Public Sector, will give a keynote, accompanied by guests from the CIA and the Allen Institute for Brain Science.
Take advantage of the AWS Summit to gain a better understanding of Amazon Web Services or explore one of the free certification training programs available now.
RSA Conference
6–9 May, 2024
San Francisco, US
Onsite & Virtual Event
| | | | | | |
| --- | --- | --- | --- | --- | --- |
| information technology | risk management | cyber security | web 5.0 | generative AI | data security |
The upcoming RSA Conference is one of the leading cybersecurity conferences. The theme for the 2024 edition is "The Art of Possible." With the previous gathering in San Francisco attracting around 40,000 attendees, the Moscone Center hosted over 650 speakers, 500 exhibitors, and a significant media presence. Topics covered include threat intelligence, protection against ransomware and malware, the pros and cons of generative AI, and the impact of open source on security. With its expansive expo floor, diverse range of keynote sessions, track sessions, tutorials, seminars, and networking opportunities, RSA is definitely an event not to miss for anyone working in the field of software security and data protection.
DevDays | DevOps Pro | CyberWiseCon Europe
23–24 May, 2024, Virtual Event
25–26 May, 2024, Vilnius, Lithuania
| | | | |
| --- | --- | --- | --- |
| software development | programming languages | DevOps | cybersecurity |
In 2024, three conferences—DevDays, DevOps Pro, and CyberWiseCon—join forces. One registration provides access to all, offering more networking and learning opportunities.
DevDays Europe is a software development conference designed for developers and by developers. Topics covered span programming languages, agile, DevOps and microservices, architecture and design, performance and security, and many more. Here are some examples: "ML for Money Laundering," "Cracking Cholera's Code: Victorian Insights for Today's Technologist," "Beyond Passwords: Exploring Passwordless Authentication for Improved Security."
The Annual DevOps Pro Europe conference is dedicated to the principles and practices of DevOps. It showcases essential tools like Docker, Kubernetes, and Jenkins, and provides real-world insights into technology adoption and implementation. It's also an opportunity to delve deep into DevOps technologies such as virtualization, containerization, orchestration, microservices, and various cloud computing platforms like Google Compute Engine, Azure, and OpenStack.
CyberWiseCon gathers cybersecurity professionals, business leaders, and IT practitioners from across Europe.The conference brings together IT security experts, network administrators, developers, and policymakers, and other cybersecurity professionals. The event covers a range of current topics, from ransomware trends and blockchain security to quantum encryption and AI threats.
Area-specific conferences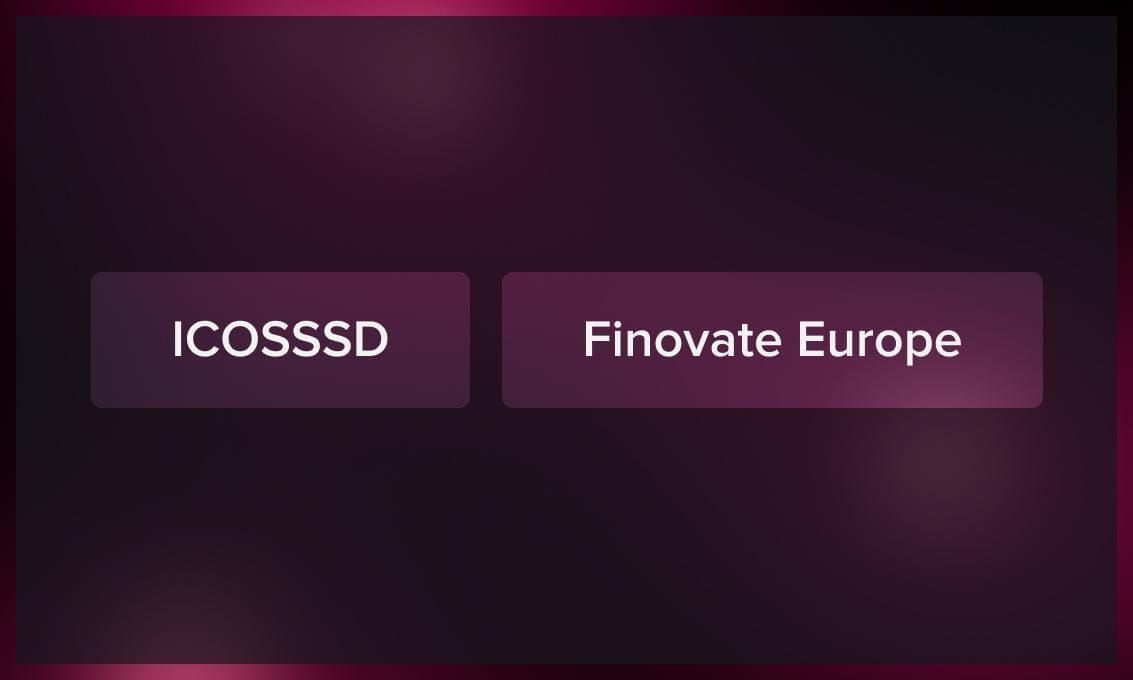 In this section, we have included events that would be especially helpful if you are interested in subjects such as open source software development, fintech, and bitcoin.
ICOSSSD
January 18–19, 2024
Virtual Event
| | |
| --- | --- |
| software development | open source |
The International Conference on Open Source Software and Software Development (ICOSSSD) convenes scholars, researchers, and enthusiasts to discuss and exchange insights on the latest trends, challenges, and innovations in open source software and software development. The event offers a comprehensive interdisciplinary platform where industry professionals, researchers, and educators can share their latest findings, explore current trends, and address real-world challenges.
The event is collaborating with the Special Journal Issue on Open Source Software and Software Development. Some standout papers from the conference will be chosen for inclusion in this issue, which will be freely accessible online.
Finovate Europe
27–28 February, 2024
London, UK
| | |
| --- | --- |
| software development | fintech |
Finovate Europe 2024 spotlights the cutting-edge of fintech innovation and offers great networking opportunities. The conference is set to host over 1000 senior attendees, with participation from over 500 banks and financial institutions. The event promises 40+ fintech demonstrations and 100+ expert speakers. With a focus on market-ready solutions, it is sure to equip you with a vision into the digital future of finance and help make connections with industry trailblazers.
Featured events include the "Out of The Box Keynote", which explores the implications of AI in finance. Another highlight is a keynote that traces the journey of cryptocurrency from its "Crypto Ice Age" to the "Crypto Winter" and the promising "Crypto Spring." The conference will also feature a panel on the emergence of a crypto-centric financial system and the evolving regulatory perspectives on crypto. Adding a touch of entertainment, the Finovate Gameshow will see fintech experts predict audience preferences on current fintech trends.
Functional programming conferences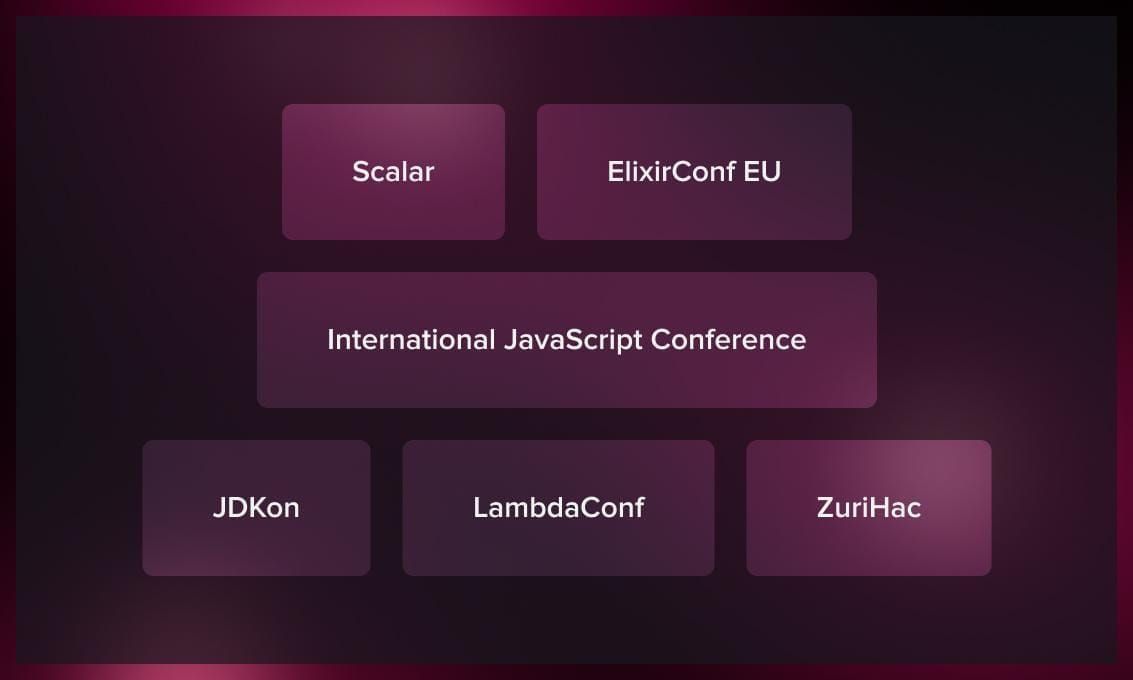 If you are aiming to enhance your knowledge and skills in functional programming, we recommend including the following events in your calendar in 2024.
Scalar
23–24 March, 2024
Warsaw, Poland
| | |
| --- | --- |
| functional programming | software development |
Since its inception in 2014, Scalar has been one of Central Europe's leading Scala conferences. Hosted by the Polish software engineering firm, SoftwareMill, this event brings together Scala enthusiasts from around the world to discuss the latest trends and applications. Over the course of two days, you will dive into the latest developments in functional programming shared by seasoned industry professionals.
Topics include "The Future of WebAssembly for Scala," "Pain-free APIs with Smithy4s," "Custom Stream Operators Made Safe And Simple with Libretto," "Functional programming and Kafka: do they mix?" among others.
If financial constraints are limiting your ability to participate, apply by February 28th for a free ticket here.
ElixirConf EU
18–19 April, 2024
Lisbon, Portugal
Onsite & Virtual Event
| | |
| --- | --- |
| functional programming | Elixir |
ElixirConf EU is one of Europe's top Elixir conferences. Annually, it attracts active contributors to the Elixir ecosystem and numerous developers interested in this programming language. Regular attendees at this event often include core team members from leading Elixir frameworks, making it a key platform for the release of fresh updates and features. With the comprehensive training and in-depth keynotes, ElixirConf EU is a space for both newcomers and advanced Elixir developers.
After hosting over 800 attendees in 2023, the forthcoming conference is set to be a hybrid event, allowing participation either in-person in Lisbon or virtually. The training sessions are scheduled for April 16th and 17th, during which you can participate or serve as a tutor.
International JavaScript Conference
24–27 April, 2024
London, UK
| | |
| --- | --- |
| functional programming | Java |
The International JavaScript Conference brings together experts from around the world to share their knowledge and perspectives on the current and future state of JavaScript. Located in London, it offers a comprehensive overview of various topics, from well-known frameworks, such as Angular and React, to newer ideas like WebAssembly.
The 2024 edition will also feature discussions on the evolving role of REST (REpresentational State Transfer) and upcoming tools such as Vite.
Attendees can either visit in person or join virtually. Both options provide ample opportunities for networking.
LambdaConf
4–10 May, 2024
Estes Park, US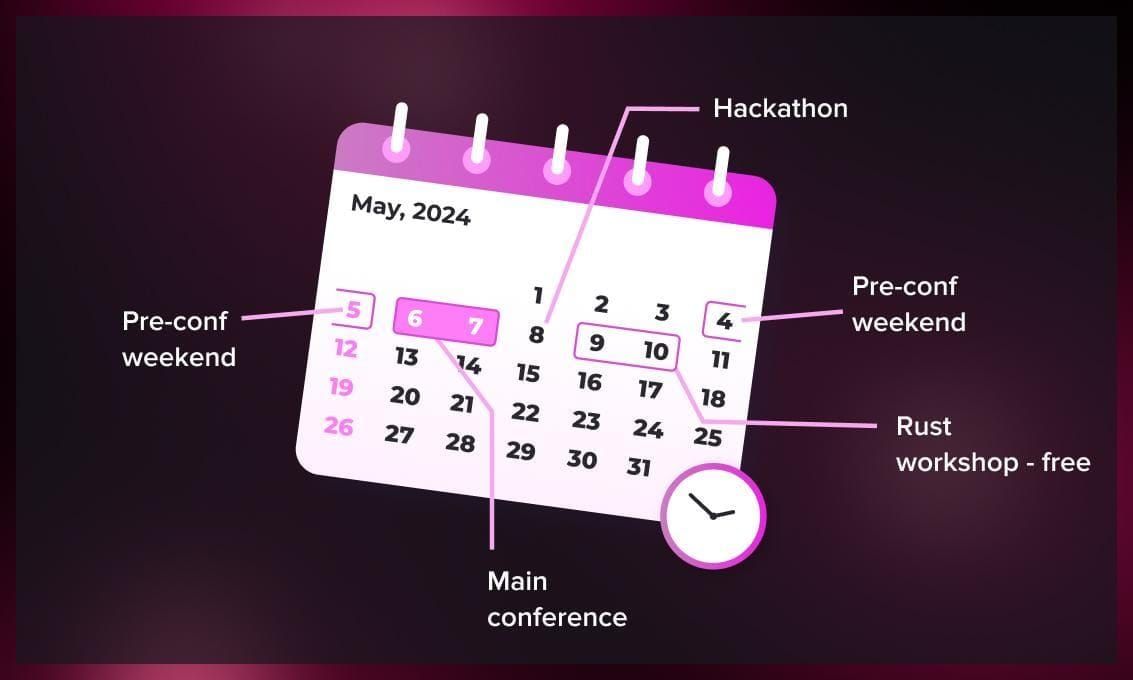 LambdaConf is making a comeback in its first iteration post-pandemic. Spanning two days, the event will feature four tracks with 100 speakers. In 2024, LambdaConf will broaden its topics, yet functional programming will still be in the spotlight. The tracks cover logic programming, cloud native technologies, AI (from foundational theories to advanced models), DevOps tools and infrastructures, functional programming theory, WebAssembly, and distributed systems. You can also participate in the free Rust workshop on May 9-10.
LambdaConf 2024 is also known for its side activities. This year, it introduces "The Lovelace Enigma," where you can join a team to decode a computer science-themed mystery and earn a nice memorable prize.
JDKon
23–24 May, 2024
Virtual Event
| | |
| --- | --- |
| functional programming | Java |
JDKon is a specialized international conference for Java professionals. It offers hands-on demos, discussions, and masterclasses led by global Java experts, with a focus on developing clean, effective, and sustainable Java applications. Among the speakers are the author of "Modern Software Engineering," Dave Farley, Java Champion Josh Long, the creator of jOOQ Lukas Eder, and Oliver Drotbohm from the VMWare cloud provider.
Among the topics covered are an exploration of code structure, an overview of Spring's cloud-native features, a discussion on micromodule architecture, and a session on refining software domain models titled "Clean Domain: Patterns, Principles, Practices."
To become a speaker, contact the organizers at cfp@jdkon.io. They promise to respond within 10 days in case your topic has been accepted.
ZuriHac
8-10 June, 2024
OST Rapperswil-Jona campus, Switzerland
| | |
| --- | --- |
| functional programming | Haskell |
ZuriHac is the largest event for the Haskell community, so if you are interested in this programming language that we at Serokell love so much, don't miss it. This three-day festival, which is free to attend, is co-organized by the Zürich Friends of Haskell group and the OST Eastern Switzerland University of Applied Science.
The conference offers a plethora of keynotes, practical sessions, collaborative programming on various projects, and plenty of networking opportunities.
The physical event takes place at the OST campus in Rapperswil-Jona, near the beautiful Lake Zürich.
Wrap-up: conference calendar 2024
Date

Conference

Focus

Location




January 18–19, 2024

ICOSSSD

software development

Virtual Event

21–23 February, 2024




Feb 27–29, 2024

DeveloperWeek

software & app developmentDevOps AI




UX/UI design




San Francisco, US




Virtual Event




26–29 February, 2024

Mobile World Congress

telecom




generative AI




mobile app development

Barcelona, Spain

27–28 February, 2024




Finovate Europe

fintechsoftware development

London, UK

March 8–15, 2024







SXSW Conference

IoT




generative AI




XR




game development

Austin, US

23–24 March, 2024





Scalar

functional programming, software development

Warsaw, Poland

April 9–11, 2024





Google Cloud Next

AI & ML




Google cloud innovations




cloud data security

Las Vegas, US

18–19 April, 2024

ElixirConf EU

Elixir, functional programming

Lisbon, Portugal &Virtual

24–25 April, 2024







World Summit AI

AI & ML




IoT




Responsible AI




AI regulatory compliance

Montréal, Canada

24–27 April, 2024

International Javascript Conference

functional programmingJava

London, UK

4–10 May, 2024

LambdaConf

functional programming

Estes Park, United States

6–9 May, 2024

RSA Conference

information technology




risk management




cyber security

San Francisco, US

23–24 May, 2024




25– 26 May, 2024




DevDays EuropeDevOps Pro EuropeCyberWiseCon Europe

programming languages




DevOps




cybersecurity

Virtual Event




Vilnius, Lithuania

23–24 May, 2024






JDKon

functional programming




Java

Virtual Event




8-10 June, 2024




ZuriHac

Functional programmingHaskell

OST Rapperswil-Jona campus, Switzerland

June 26–27, 2024





AWS Summit

digital transformation




database storage & security




AWS cloud solutions

Washington, DC, US
How to get the most out of tech conferences
To make the most of a tech conference, you need strategic preparation.
Before the event
Set clear objectives: are you aiming to learn new technologies, network, uncover industry trends, or is your goal a mix of all that?
Engage early through conference apps or forums to connect with fellow attendees, and refine a brief introduction of yourself for efficient networking.
Get acquainted with the agenda, key speakers, and participating companies, and pre-plan which sessions to attend.
At the conference
Stay active and involved. Jot down important points, join in on discussions, and use breaks for networking. Visit the exhibition booths to learn about the latest in the industry.
Stay updated and share your experiences on social media. Also, remember to eat, drink water, and get enough rest to stay sharp.
After the event
Review your notes and reconnect with the people you met. Personalize your messages to make them memorable.
Share what you've learned with colleagues or write a blog post about it to share your impressions.
Consider how to use any new strategies or tools in your work.
How to become a speaker at tech conferences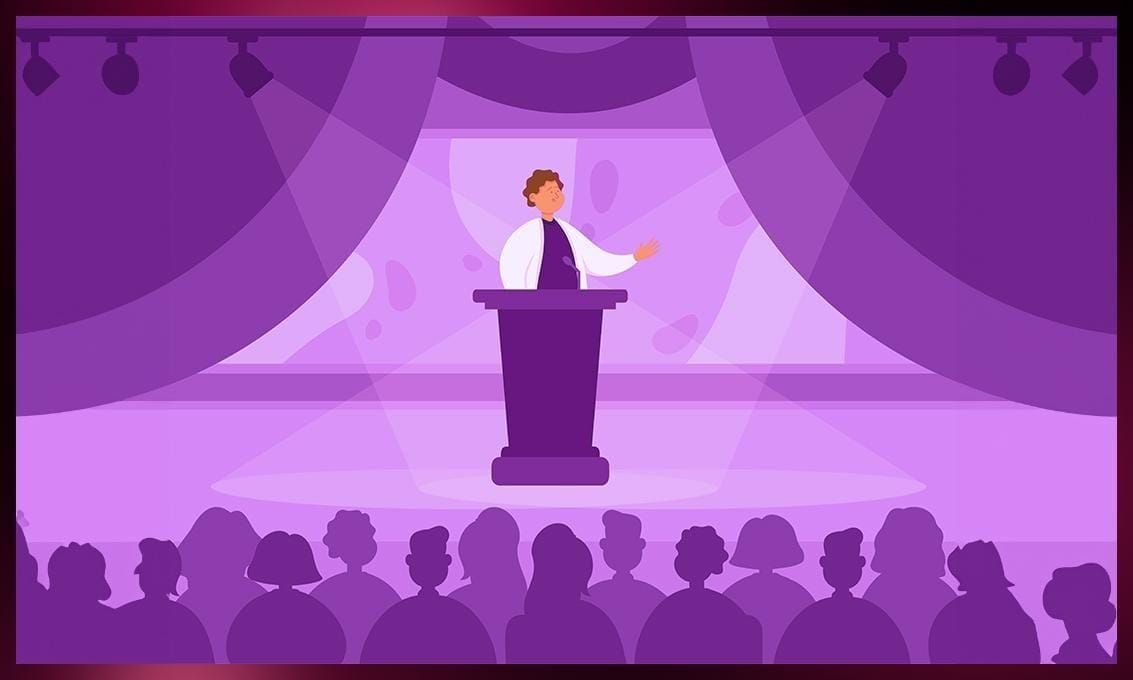 To become a tech conference speaker, the first step is to craft a compelling application. Here's what you need to succeed in it:
Identify the right conference for your area of expertise.
Review the 'Call for Papers' (CFP) or 'Call for Proposals' sections for the requirements, the submission process, and deadlines.
Draft a proposal that highlights the key takeaways, the relevance of the topic to the audience, and its significance in the industry.
The second step is preparing yourself for the selection process and the eventual presentation:
Improve your public speaking skills, refine your presentation, and seek feedback from peers or mentors.
Connect with past speakers or members of the organizing committee to understand what they look for in a speaker and how to make your idea stand out.
If your proposal is accepted, refine your content, ensuring it provides value and engages your audience. Practical demonstrations, case studies, or real-world examples can make your talk more compelling.
Finally, rehearse multiple times to ensure a confident delivery on the day of the conference. While content is king, delivery is equally vital to leave a lasting impression on your audience.
Happy conferencing!