Want to know a fun fact? At the time of writing, Serokell's blog is already 1 year old.
Yup. We've made it. Started from the bottom, now we're here.
Exactly 365 days ago, we published our first and also second article. (You know that we have always been generous.) Last week, Serokell's CTO Kirill Elagin published the thirty-fifth. 35 is not much, but it's not little either. From 35 stones, you can build a reasonable pyramid.
While we have had our slow phases, it seems that our blog has survived the early death that is the fate of most company blogs. Therefore, I look forward and see only glory and fame.
To show off a little, we've gathered some stats from the past and the present of the blog and compiled them into an infographic.
The Numbers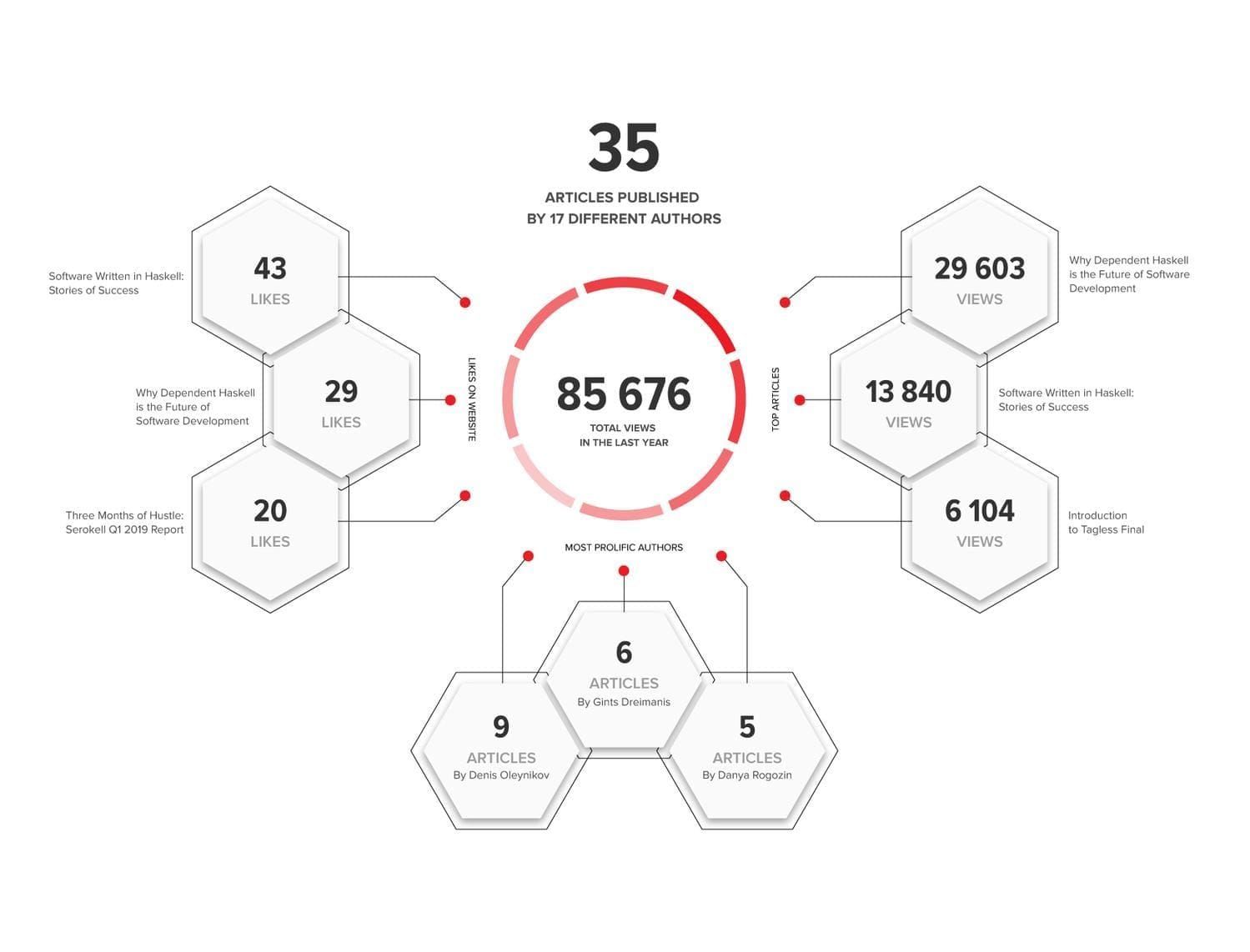 Past year, our blog has been visited about 85 000 times. Over a third of those visits have been to Vladislav Zavialov's excellent article about Dependent Haskell, half of that amount to our article about Haskell in industry, and a half of that to Vasiliy's introduction to Tagless Final.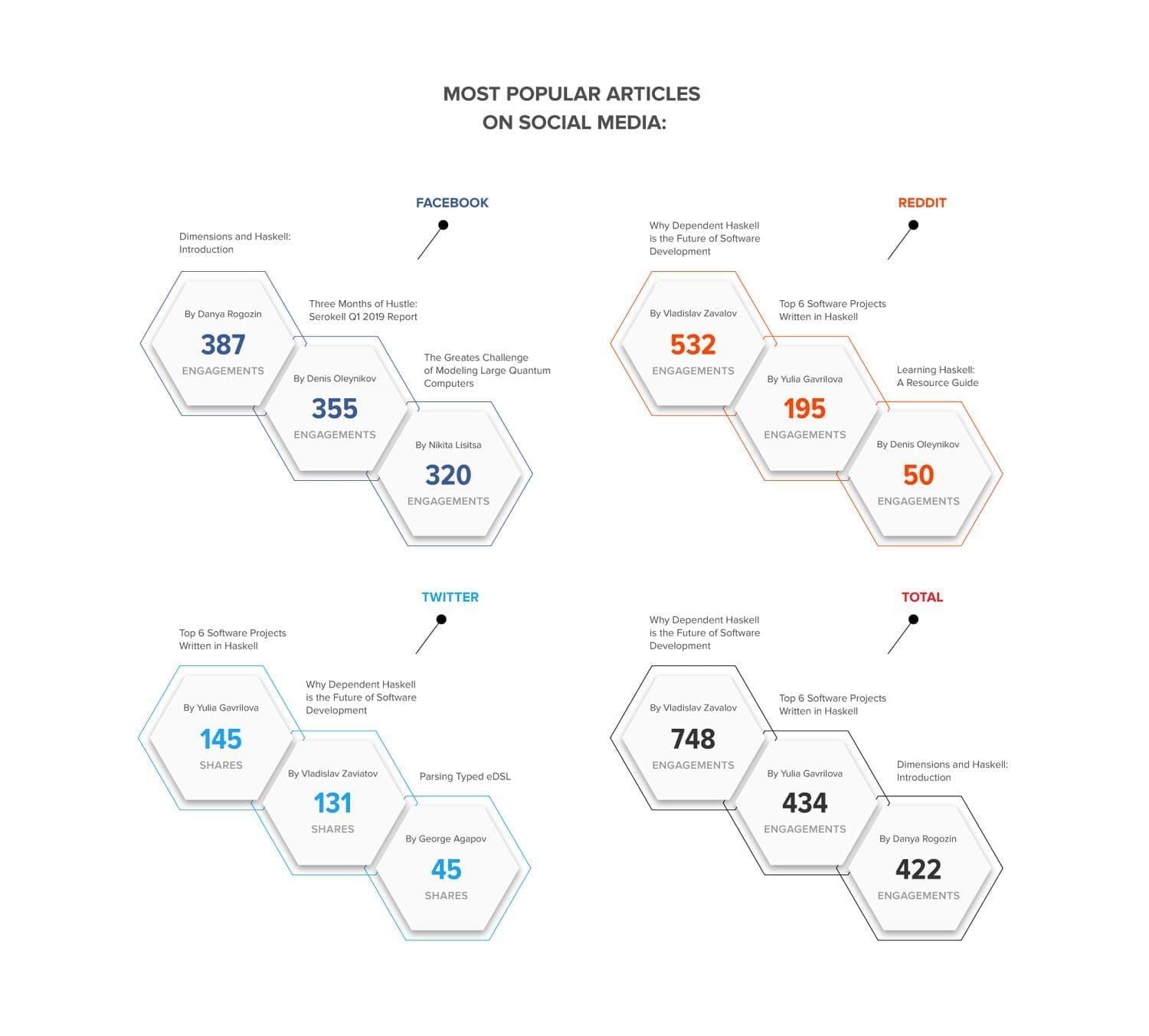 Turns out, each social media network has a different article they like the most. While Facebook loved our introduction to Haskell libraries for machine learning, Reddit wanted to learn more about the future of Haskell, and Twitter about the successes it has had. Ahh, Twitter people. Always practical and reasonable.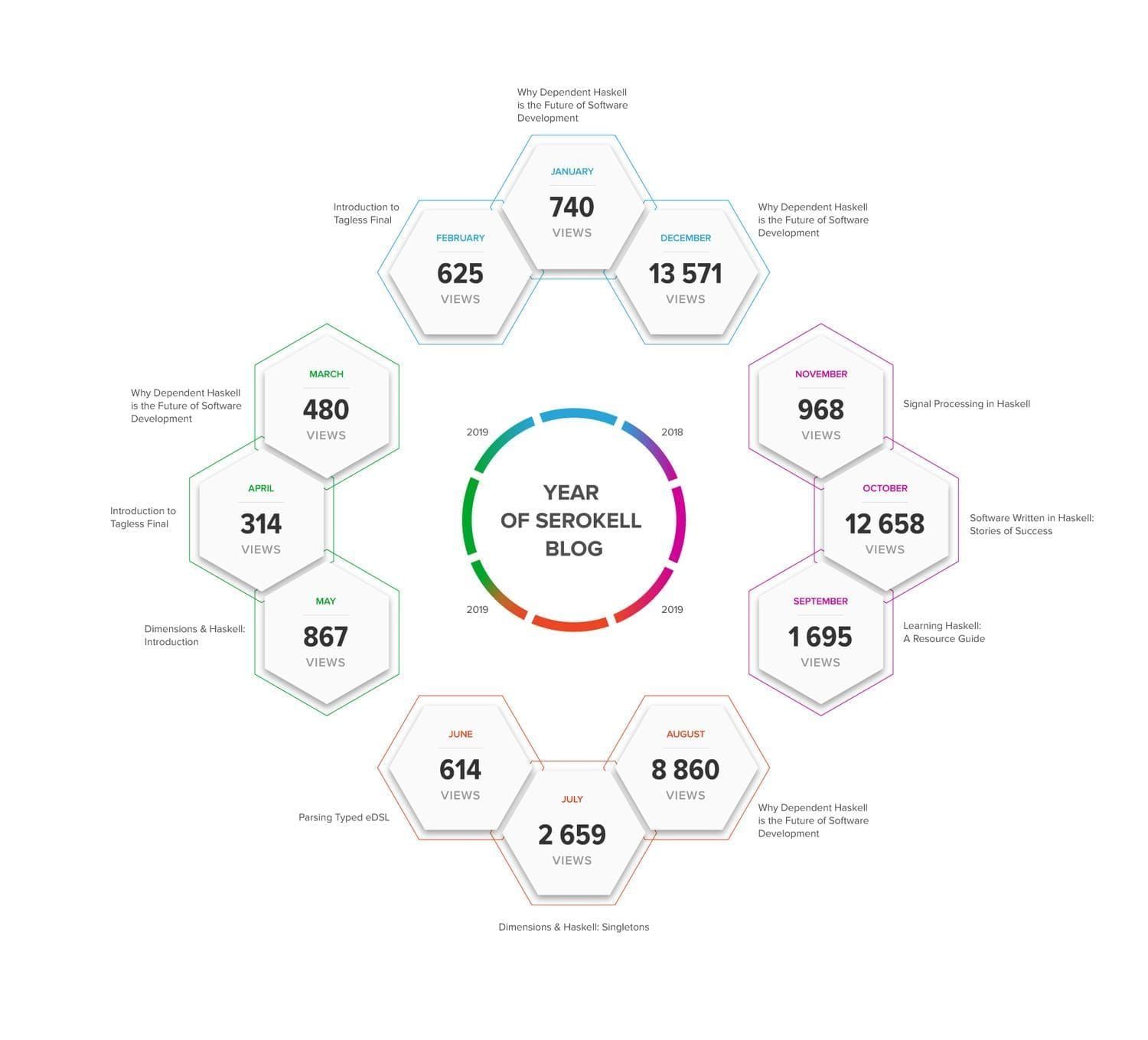 And here are the top articles for each month of the entire year. If one looks closely, the view counts are increasing. That's good. I wish you kept reading the articles because it is very fun to write them.
Some of these we haven't yet mentioned. If a headline catches your eye and you immediately want to visit it, it's somewhere down below:
The Glorious Future
If you've been a reader for this past year, or literally any part of the journey, we'd like to thank you so, so much. It's been a pleasure.
Well, but you might ask, how are we going to top this? We have a blog about Haskell that people read. What else?
Comments! Exactly. We have been planning improvements to the blog, focused on making the content more engaging and interactive for you, the readers. Right now, we are in the process of creating a comment system; other improvements like a place for feedback will follow shortly.
There's a load of articles in the works: modal logic, free monads, comparison of GitLab and GitHub, deeper descriptions of Haskell in industry. Stay with us to find out interesting facts and answers to difficult questions.
Let's make the next year even better.